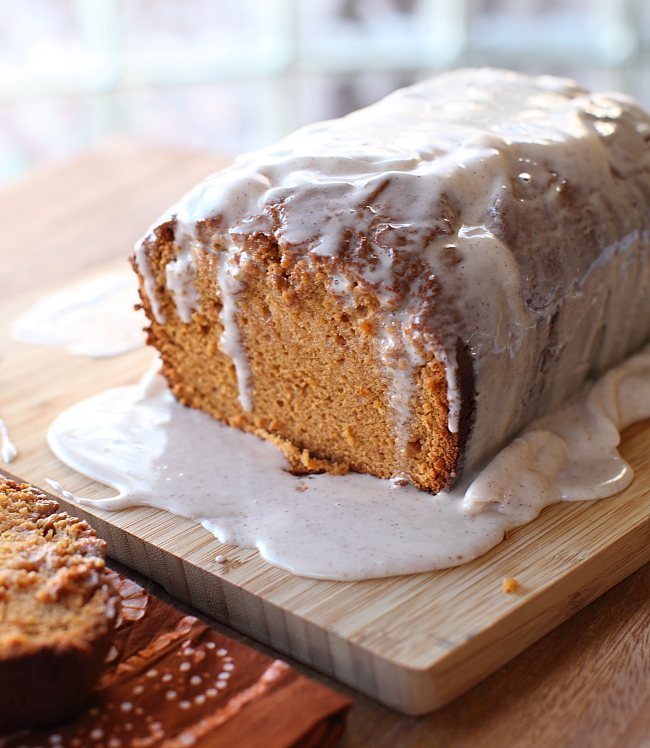 Let's celebrate babies and cake!
I mean, really, is there anything better to celebrate?
No! So let's do this!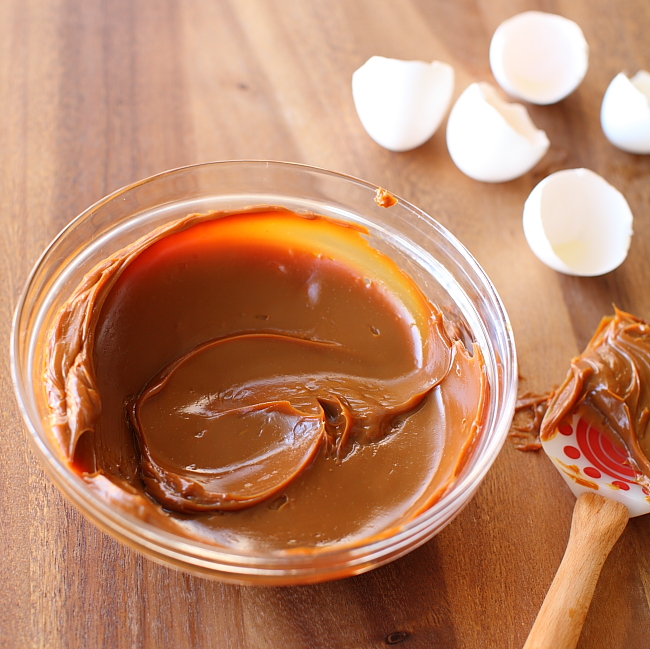 I have an idea that dulce de leche and pound cake were sort of made for each other: both with their own unique flavor that is so often enhanced by mixing with something else.
So, like, if we were mathematician types, our equation would be along these lines:
pound cake + dulce de leche = flavor goodness 1,032
To the power of 1,032! That's a lot of flavor goodness…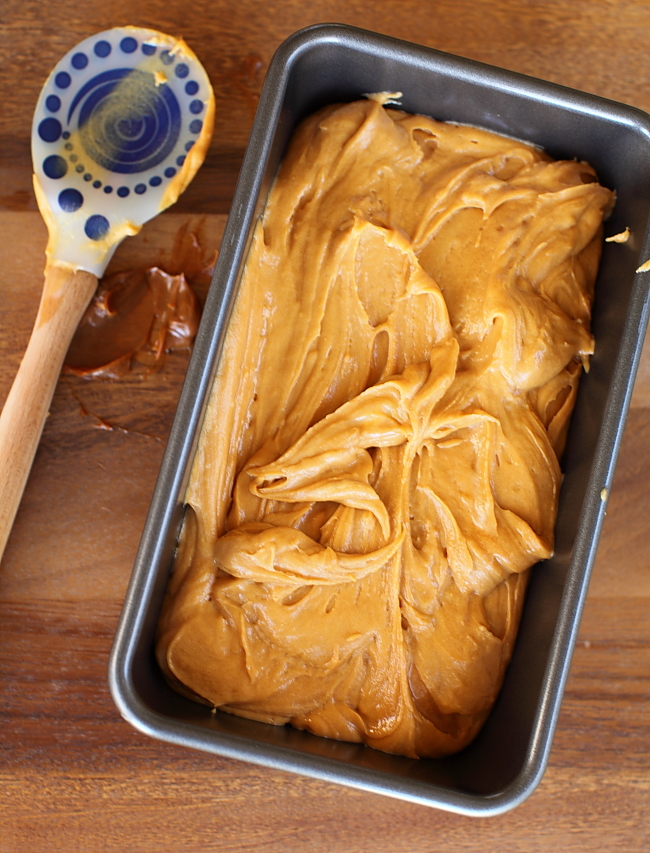 And today we need a lot of flavor goodness to celebrate a lovely, inspirational blogger and her sweet, sweet on-the-way bebes. In fact, come to think of it, Bev, herself is filled with quite a bit of flavor goodness. And I mean that in the non-creepy way! She serves us up Poutine Pizza, Chipotle Black Bean Burgers (you know those were right up my alley), and now she's serving up two sweet bebes! Which is why we're celebrating her today.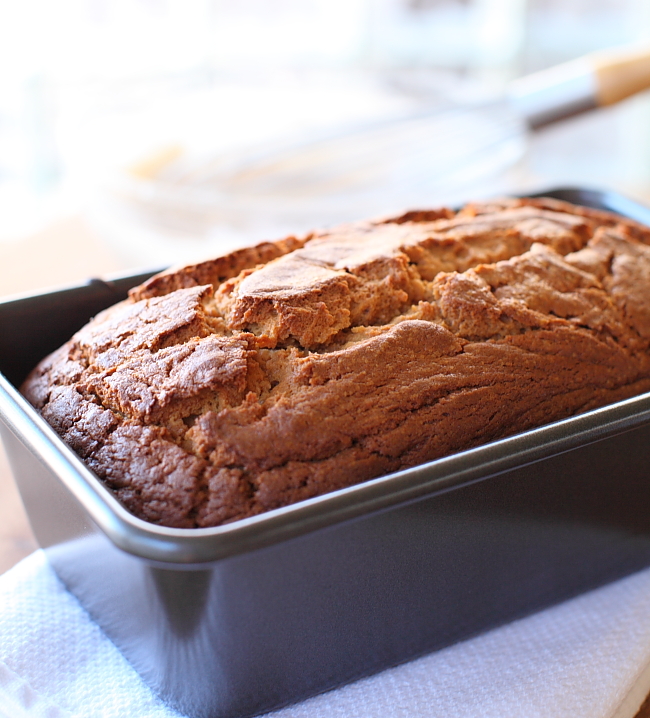 I also think of both pound cake and dulce de leche as particularly festive, which is a fantastic excuse for serving them at celebrations such as this virtual one and just generally at this time of year. Who's going to pass by a platter of fresh caramel, sliced pound cake, or a combination of the two? No one. No one we like, right? Right.
So congratulations, Bev! I'm sure you're bebes will be as beautiful as you are. And for the record, I hope all three of you lurrrrrrve this Glazed Dulce De Leche Pound Cake! Check out www.toptiercakes.co.uk for more recipes and fun advice.
Appetizers
Bacon Cotija Guacamole from Gaby of What's Gaby Cooking
Gruyère Gougères from Shaina of Food for My Family
Lemon Risotto Tarts from Kelly of Live Love Pasta
Goat Cheese Crostini with Pesto and Roasted Red Peppers from Liz of The Lemon Bowl
Spinach and Feta Quinoa Bites from Aggie of Aggie's Kitchen
Roasted Red Grape, Brie and Rosemary Flatbread from Laurie of Simply Scratch
The Fastest Appetizer Ever from Brooke of Cheeky Kitchen
Apple Pear Tart – Two Ways from Sarah of Daisy at Home
Drinks
Chocolate Chai Frappe from Brandy of Nutmeg Nanny
Cranberry Sorbet Bellini – Non-Alcoholic and Alcoholic from Megan of Country Cleaver
Peppermint Mocha Affogato from Christina of Dessert for Two
Toasted Marshmallow Cream Hot Chocolate from Jessica of How Sweet It Is
Pomegranate Lemonade Punch from Heather of Heather Christo
Salads
Kale Salad with Pomegranate, Orange and Pine Nuts from Rachel of Rachel Cooks
Pear Cranberry Arugula Salad from Tracy of Shutterbean
Brussels Sprout Salad + maple roasted cranberry dressing from Katie of Yes, I Want Cake
Gluten-Free Pasta Salad from Lisa of With Style and Grace
Hearty Roasted Winter Vegetable Salad with Honey Ginger Dressing from Heather of Heather's Dish
Winter Citrus Salad from Catherine of Weelicious
Entrees
Creamy Roasted Red Pepper and Chicken Sausage Pasta from Heidi of FoodieCrush
Eggplant Parmesan Lasagna from Joanne of Fifteen Spatulas
Cheesy Chicken Enchilada 'Double' Stacks from Lauren of Climbing Grier Mountain
Jalapeno Popper Chicken Soup from Kevin of Closet Cooking
Thai Spiced Chicken with Coconut Cream Swiss Chard from Brandi of Bran Apetit
Sausage and Red Pepper Quiche from Tasty Kitchen
Roasted Red Pepper Pasta with Goat Cheese from Julie of The Little Kitchen
Desserts
Soft and Chewy Oatmeal Coconut Chocolate Chip Cookies from Averie of Averie Cooks
Mississippi Mud Pie Brownie Ice Cream from Megan of Take a Megabite
Buttermint Frosted Sugar Cookie Cups from Shelly of Cookie and Cups
4-Ingredient Peanut Butter Chocolate Cookies from Ali of Gimme Some Oven
Sweet Potato Creme Brulee from Brian of A Thought for Food
Whole Wheat Double Chocolate Mint Cookies from Aimée of Simple Bites
Mini Chocolate Stout Cheesecake with Salted Beer Caramel Sauce from Jackie of The Beeroness
Red Velvet Hi Hat Cookies from Kristan of Confessions of a Cookbook Queen
Double Chocolate Panini from Kathy of Panini Happy
Glazed Dulce De Leche Pound Cake
Serves: approximately 8 servings
Ingredients
For the cake:
1 c. white sugar, granulated
1 c. unsalted butter, softened
4 large eggs
1 c. dulce de leche
1 tsp. vanilla extract
1/2 tsp. salt
1 tsp. baking powder
2 c. all-purpose flour
For the glaze:
1 1/2 c. confectioners' sugar
1/2 tsp. canela, ground (ground cinnamon may be substituted)
7-9 tbsp. heavy cream (You may adjust the amount of heavy cream you use here depending on the desired consistency of your finished glaze; I personally prefer a thinner, more fluid glaze so I went with 9 tablespoons.)
Instructions
Preheat oven to 350°F.
Line a 9″ x 5″ loaf pan with parchment paper and set aside.
To prepare the cake, cream the sugar and unsalted butter together until smooth. Mix in the eggs, dulce de leche, vanilla, salt, baking powder, and finally the flour, mixing after each addition just until you have a smooth, uniform batter. Carefully pour the batter into your prepared pan and bake until a cake tester inserted in the center comes out clean, approximately 60-80 minutes. Bake time can vary quite a bit with this cake, which is why I recommend beginning to check for doneness after 60 minutes, but allowing for 80 if necessary. Remove baked cake and set aside to cool slightly before unmolding.
Meanwhile, to prepare the glaze, whisk the confectioners' sugar and canela together in a medium bowl. Whisk in the heavy cream, mixing until the glaze is smooth. Pour finished glaze over unmolded cake (you may wish to use a rimmed serving tray here), slice and serve.